Have you made preparations for your summer travels? Planning ahead and having an idea of what you want to do and where you want to go are both beneficial.
As it's much easier to travel there in the summer, Greenland should be on some people's summer travel lists. Some claim that this is the area where you truly lose track of time because there is enough sunlight there. Despite the long days, it is the ideal time of year to visit.
We'll list a few locations you should check out while you're in Greenland.
Ilulissat Icefjord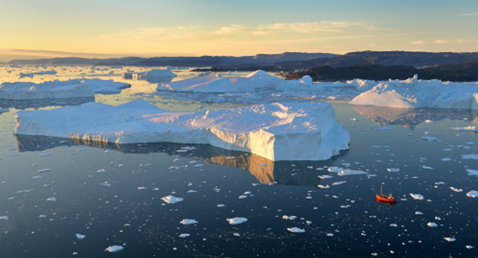 (Image source: Wikipedia)
This magnificent spot is located in Avannaata, on the west coast of Greenland. This glacier is thought to be the world's quickest and most active. Since 2004, the Icefjord has been included as a UNESCO World Heritage Site. The celestial spectacle that visitors can see here is renowned around the world. At the point of the coast in Disko Bay, the magic happens. The 'calving' of icebergs, in which pieces of the iceberg break off and fall into the ocean, slowly carrying them away, is what creates this enchantment.
Sermeq Kujalleq, the largest and most beautiful glacier that drains into the coastal waters, is so named. Even though it's difficult to see, if someone is fortunate enough to come across it at the proper time, they may still be able to. The show can be witnessed from the ground, and many people come to this location to do just that.
Uunartoq Hot Springs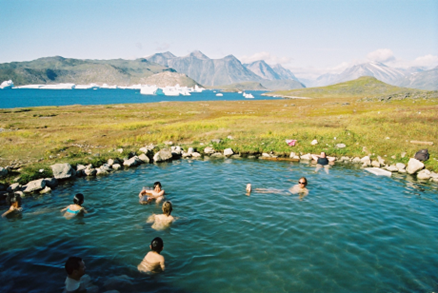 (Image source: Wikipedia)
Greenland has several hot springs because it is covered with glaciers and, obviously, ice. In Greenland, there are several hot springs, but the ones at Uunartoq stand out from the others. Uunartoq Qeqertaq, the name of the island, means "extremely hot island." It's a deserted island that makes the ideal getaway from your hectic life. It can be reached quickly by boat from the two cities of Qaqortoq and Nanortalik in the southern region of Greenland.
The water is the ideal temperature for a relaxing bath. The ideal form of rehabilitation is to be outside in slightly warm water with a lovely view of nature and occasionally the chance to see whales.
Tasiilaq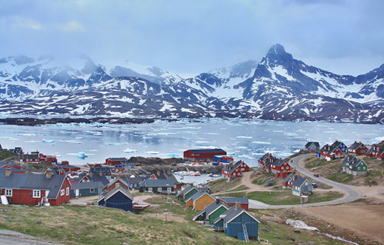 (Image source: Wikipedia)
The town of Tasiilaq would be the ideal location for hiking if you're the outdoorsy sort. There are many hiking paths there, and they range in duration from one day for the shortest to eight to nine days for the longest track near Sisimut.
Greenland Midnight Sun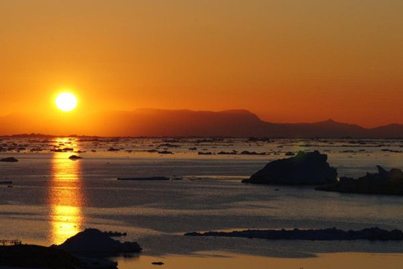 (Image source: Pinterest)
Who wouldn't want to see Greenland's midnight sun? The early hours of the morning are when the sun sets. Because to the sky's brightness and clear visibility throughout the day, this phenomenon is known as the Midnight Sun. Although the midnight sun can be seen all around the country, it is most prominent in the Arctic Circle's northernmost regions.
The following stop is Siem Reap, Cambodia. It is referred to as the country's main tourist center and is situated in the northwest of Cambodia. The ruins and temples of the Angkor Complex are connected by a bridge. What activities are available here throughout the summer, though?
Cycling around Angkor Complex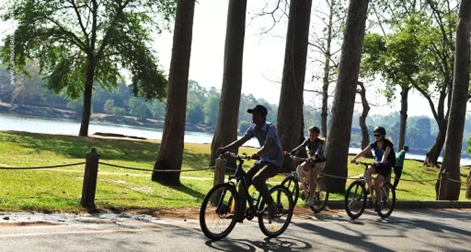 (Image source: Cambodia Travel)
The Angkor Archaeological Park is one of Southeast Asia's most significant archaeological monuments, according to UNESCO. If you have the time, I highly suggest taking a tour by bicycle. You'll be able to avoid crowded areas and have a flexible schedule by doing this. You will also have a bike guide with you.
There are other additional temples you can visit as well, although they are not reachable on foot. So if it's too far to walk, riding is a great option. An automobile or tuk-tuk is an alternative.
The major temples including Angkor Wat, Angkor Thom, Ta Prohm, and Preah Khan may be seen on a one-day bike tour. However, you can take the three-day Angkor Pass if you have some extra time. Be aware that there is a stringent clothing code in the Angkor region, even if you are bicycling in the scorching sun. You must cover your legs and shoulders. 
Sunrise at Angkor Wat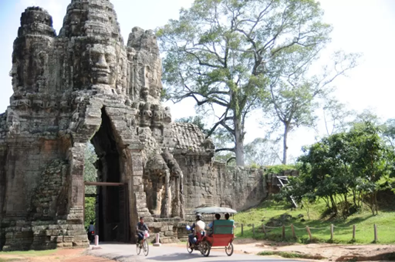 (Image source: Cambodia Travel)
The five towers of Angkor Wat were built in the 12th century by Suryavarman II, the ruler of Cambodia from 1113 to 1152 and another UNESCO World Heritage Site. He offered them to Vishnu, a Hindu deity. Travelers from all over the world visit Cambodia for a variety of reasons, one of which is this.
The daybreak at Angkor Wat is beautiful because visitors can see "the temple reflex on the river," which is significantly cooler and less congested. In the ticket office, you can purchase tickets for this event. It is advised to purchase the tickets by 5 a.m. and be there by 5:15 a.m. at the ticket office. to ensure an excellent vantage point for seeing the temple at dawn.
Peaceful Sunset over Phnom Krom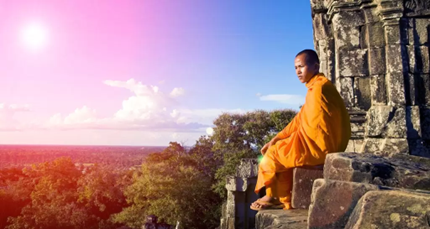 (Image source: Cambodia Travel)
If you've seen the sunrise, you must see the sunset as well. Pre-Rup Temple and Phnom Bakeng are the two most well-liked locations to watch sunsets. The greatest place to watch the sunset over Tonle Sap Lake is at the temple Prasat Phnom Krom. The floating homes in Chong Kneas Village appear much more stunning from this distance than they do when viewed up close during regular boat hours.
Angkor Night Market
(Image source: Cambodia Travel)
If you end up on Pub Street, just continue walking a few blocks to get to Angkor Night Market. The first night market in Cambodia opened its doors in 2007 when it was originally founded.
The area exudes a Cambodian vibe thanks to a collection of elegant traditional huts constructed in the Khmer style. A range of traditional Cambodian handicrafts, including clothing, silk, paintings, jewelry, wood, and stone carvings, are available in over 240 stores for tourists to purchase.
For those who need to unwind after spending a day visiting the city, there are numerous street food sellers as well as some massage and spa establishments. 5 o'clock is when the night market starts. It stays open till midnight each night.
Playa del Carmen, Mexico, comes next. Playa Del Carmen is regarded as one of the greatest places to visit because it is a lovely beach town and is not frequently overrun by tourists.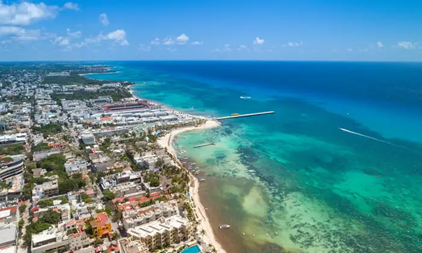 (Image source: Travel Triangle)
You can go snorkeling at Cenote Dos Ojos or at Cenote Azul. You can also visit the south of Playa, which has ancient Mayan ruins in the town of Tulum. One of the tourist attractions here is the Mexican seafood, and some of the things to do here are swim, do watersports, experience the nightlife, and shop.
If you're looking for a place to visit, check out Playacar, Los Fundadores Park, and 3D Museum Wonders. If you're also looking for places to eat, check out Oh Lala, Kaxapa Factory, Harry's Steakhouse, and Clorofila. However, if you're not a fan of spicy food, be careful when trying some.
You may also want to check slingo.com for more options on where you want to take a vacation.
https://www.slingo.com/blog/lifestyle/the-best-luxury-destinations-in-the-world/